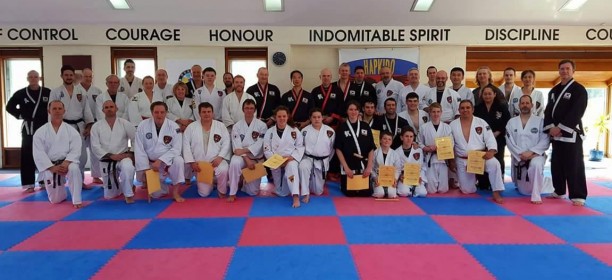 Held over the weekend October 8th and 9th with Grand Master Scott Seo in attendance as our guest. The seminar was hosted by Callum Forbes and the Upper Hutt Hapkido Academy which is the Head Quarters Do Jang for the New Zealand Hapkido Federation which currently consists of five WKF member Do Jangs and one pending.  Over 40 people from throughout New Zealand enrolled for the 1st Oceania Cup on Saturday 8th and over 60 for the Hapkido seminars with GM Scott on Sunday 9th.
1st Oceania Cup
The 1st Oceania Cup was the first time that we have run a national Hapkido tournament in New Zealand and was a bit of an unknown as we had never exposed our students to a competition before apart from those who had competed during the 2013 and 2015 Korea Trips.
The Oceania Cup followed the same format of the World Kido Federation / Hanminjok Hapkido Association tournaments and we would like to thank Master Rickard from Sweden for sending us their rules which we adapted to the New Zealand Hapkido environment. This included offering armed and unarmed patterns (hyungs), self-defence and Sparring. The Sparring was adapted to allow for a higher level of contact including hand strikes to the head for the adult divisions (special head protection was used). No body armor was used in either the junior or adult divisions to allow greater use of throwing and take down techniques. A greater time on the ground was also allowed to demonstrate ground fighting skills in both Divisions.
The entire event ran very smoothly with no injuries (!) and the standard across all Divisions was high with students as young as 7 and old as 67 taking part. The armed patterns in particular was well contested particularly because this is a very new area for our students with many of them learning the Hanminjok hyungs in the weeks leading up to the competition.
In the end Upper Hutt Hapkido Academy's Junior Black Belt Dominic Chan won the inaugural Oceania Cup after amassing the highest number of competition points. His win was particularly noteworthy as in one of his Divisions (armed hyungs) he was competing against adult 1st – 4th Dan Black Belts.
Everybody who competed in, or watched the Oceania Cup thought that it was a fantastic event and it has helped further bond the New Zealand Schools together. We plan to hold the next Oceania Cup in October 2018.
Grandmaster Scott Seo Seminars
The second part of the 2016 Hapkido Festival was seminars with Grand Master Scott. He ran three seminars  - one for our Tigers (Junior students aged 7  - 12) and he covered basic Dan Bong techniques with them. About 20 students showed up for this seminar. The main seminar was the Hapkido seminar that was attended by over 50 people – mostly from Hapkido but also with several from Kenpo Karate, Okinawan Gojo-Ryu Karate and Tae Kwon Do. Master Scott covered some basic Hosinsul before moving onto Dan Bong techniques. The final seminar was for Black Belts and about 20 people attended. Master Scott covered advanced Hosinsul techniques in this seminar.
The seminars were all well-received by the attendees.
On Monday 10th October (GM Scott's light night in New Zealand) he took the adult Hapkido class at the Upper Hutt Hapkido Academy and everybody really enjoyed the experience of how Hapkido classes are run in south Korea.
Overall the 2016 was a huge success and build on the success of GM Scott's 2014 Trip. We have made some plans to make the 2018 Oceania Cup and Hapkido Festival even more successful.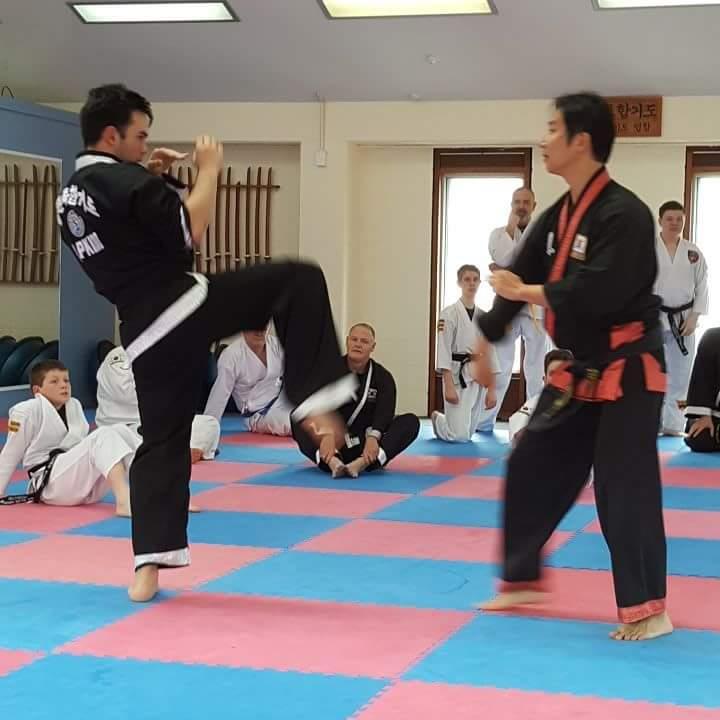 (GM Scott demonstrating a hosinsul technique on Jon-Luke Harvey from the Upper Hutt Hapkido Academy)
(Winner of the 1st Oceania Cup Dominic Chan with his sister Yasmin Chan flanked by GM Scott and Callum Forbes)