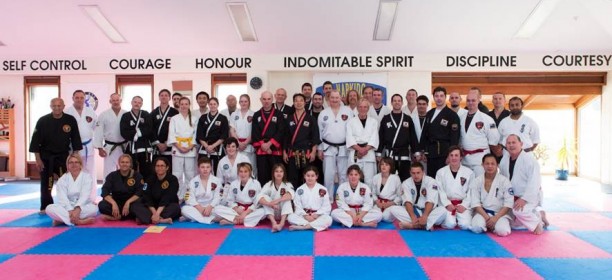 Sharing the following on behalf of Master Callum Forbes, who recently hosted Grandmaster Scott Seo for a seminar in New Zealand:
Held over the weekend October 4th and 5th with Grand Master Scott Seo, the seminar was hosted by Callum Forbes and the Upper Hutt Hapkido Academy which is the Head Quarters Do Jang for the New Zealand Hapkido Federation, which currently consists of five WKF member Do Jangs and one pending.
Over 60 people from throughout New Zealand enrolled for the seminar with some students enrolling for one day and others for both days. Numbers on both days were around 50 and Master Scott ran an excellent seminar covering basic and advanced Hanminjok Hapkido techniques which was well received by everybody.
On Monday 6th October Master Scott ran a special class for the Upper Hutt members covering Ki Hap Hyung 1 &2 and Sang Dan Gum Hyung as well as fan techniques. We hope to host Master Scott again in New Zealand in about two years time.